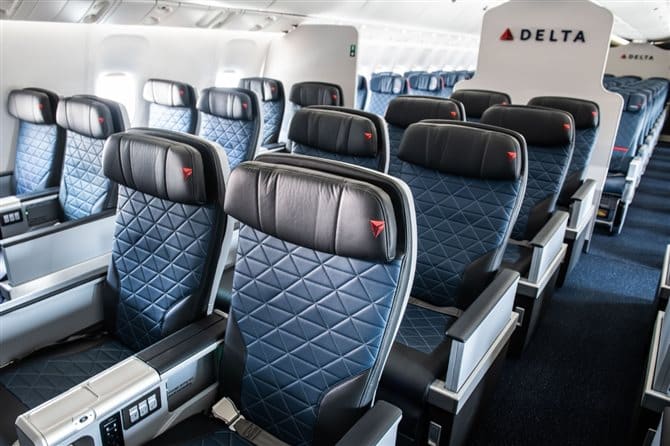 Delta Airlines announced the new seasonal menus, served on certain flights between the United States and South America. The new options seek to offer flavors that reflect the return and return of each trip, bringing a Latin touch to North American dishes. . Another novelty for Delta One and First Class customers is that they can choose their meal in advance by email (three days) or the Fly Delta application (three weeks).
On long-haul flights from São Paulo (GRU) and Rio de Janeiro (GIG), passengers will have the option to start their meal with smoked salmon and blinis served with fresh cream and caviar and a caprese salad or green broth. Next, customers will choose between braised dry meat with onion and pumpkin kibebe, a puree, and cilantro rice; roasted chicken breast stuffed with cheese, spinach and breadcrumbs, served over black rice with tomatoes, assorted vegetables and prunes sauce; a cold dish with marinated prawns with quail eggs, smoked salmon stuffed with brie and cream cheese, arugula and walnuts, with a tomato salad with marinated heart and mango; or the blue cheese tortelli in a creamy roasted garlic sauce, with spinach and sun-dried tomatoes.
On flights from Atlanta to Brazil, Delta One customers enjoy the options of grilled filet mignon, parmegianna chicken or "cacio e pepe", as well as a roasted corvina with a traditionally Chilean pancake, potatoes with butter and roasted beans and cherry tomatoes served with Chilean salsa.
Delta One customers departing from Bogotá, Lima and Buenos Aires will also have news on the menus such as banana and dulce de leche crepes, potato sake and shrimp ceviche; respectively. The options on flights from Atlanta to the Latin capitals are similar to those offered on flights to Brazil, with some minor variations depending on the culture of the destination.
DRINKS
The drinks menu also has news. Delta One customers will be able to taste the drink of the moment before the meal, which this season is the French 75, a combination of gin, champagne and lemon soda. Already during meals, passengers will be able to enjoy a selection of wines from Delta's sommelier master, Andrea Robinson.
The International Main Cabin service also has news. Customers will be served with the peach Bellini as a welcome cocktail, followed by bistro-style meals with an appetizer, larger main courses, a dessert and a sweet as a farewell touch. Brazil's routes include a choice of chicken with parmesan, mozzarella ravioli or salad with roasted chicken.