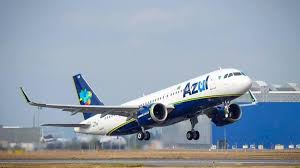 Azul Airlines declares it has interest in acquiring Latam Airlines Group.
Azul's president, David Neeleman said that the company is interested in buying the whole group and is ready to put an offer.
Latam filled for bankruptcy in 2020, however it has yet to present a restructuring plan.
During the pandemic both companies had a code share program to avoid competing in Brazil as the market shrank, but the program was ended this week, according to Azul, due to a reaction to its consolidation plans.
Latam declared that so far, didn't receive any offers from Azul, and doesn't intend to sell any of its parts.
Latam operates with extensive network in Brazil, Chile, Peru, Ecuador and Colombia as well as other international routes to the USA and Europe.