GOL Brazilian Airlines announced four new daily flights connecting the cities of Brasilia and Fortaleza in Brazil to Miami and Orlando in the United States.  Service starts on November 4th, 2018.
The new service will be operated by GOL Airlines on brand new Boeing 737 Max Airplanes, and will be the world's longest routes operated by this type of aircraft, covering almost 3,800 miles non stop.
With convenient departure times from Miami and Orlando,  passengers connecting from other airports have plenty of time to make the connections and get to Fortaleza and Brasila more conveniently.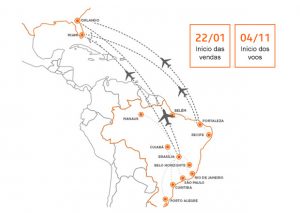 G37600 Brasilia (BSB) 9:50AM Departure → Orlando (MCO) 2:50PM Arrival
G37601 Orlando (MCO) 9:30PM Departure → Brasilia (BSB) 8:20AM (+1) Arrival
G37664 Fortaleza (FOR) 8:35AM Departure → Orlando (MCO) 2:25PM Arrival
G37665 Orlando (MCO) 9:45PM Departure → Fortaleza (FOR) 7:15AM (+1) Arrival
G37748 Brasilia (BSB) 9:50AM Departure → Miami (MIA) 2:25PM Arrival
G37749 Miami (MIA) 9:45PM Departure → Brasilia (BSB) 8:20AM (+1) Arrival
G37732 Fortaleza (FOR) 8:35AM Departure → Miami (MIA) 2:05PM Arrival
G37733 Miami (MIA) 10:00PM Departure → Fortaleza (FOR) 7:15AM (+1) Arrival
For more information, please call BROL.COM at 305 379 0005, or email us at : [email protected]