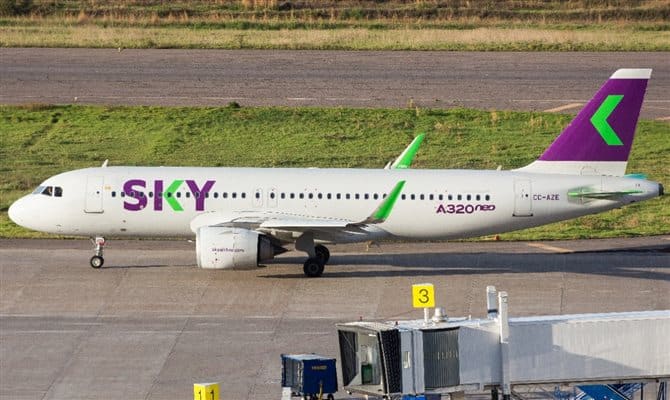 Sky Airline is resuming its regular operations in Brazil. From September 28, the Chilean low-cost airline will have schedules departing from São Paulo and Rio de Janeiro and arriving in Santiago, Chile.
The resumption flight in São Paulo, on September 28, will leave the capital of São Paulo at 12:40 pm, arriving in Chile at 4:45 pm. The reverse operation will leave the Chilean capital the next day, at 8:11 am, disembarking in Guarulhos at 11:50 am.
From October, there will be two weekly flights, on Mondays and Fridays. In November, operations will increase to three per week (Mondays, Wednesdays, and Fridays) and, in December, there will be five weekly flights, operating on Mondays, Wednesdays, Thursdays, Fridays, and Sundays.
In Rio de Janeiro, the first flight (28/09) will depart at 10:05 am, landing in Santiago at 2:49 pm. For the return trip, the service will depart from the Chilean capital at 5:13 am the next day, arriving at Galeão at 9:15 am. In October, the route will have two frequencies in the week, on Mondays and Thursdays, changing to three in November (Mondays, Thursdays, and Saturdays). Starting in December, there will be daily flights.
For more details and information, contact operational support at [email protected].
About SKY Airline
Sky Airline was controlled by its founder, Jürgen Paulmann (1930–2014), a German-Chilean businessman, brother of retail billionaire Jurgen Paulmann. It started operations in December 2001 and made the first flights from Santiago to Northern Chile in June 2002. Since 2005 is a full member of IATA.
In April 2009, the company signed an agreement with Aerolineas Argentinas, allowing the Argentinean flag carrier to offer in all its commercial offices and through its electronic ticket system most of the destinations covered by Sky Airline in Chile.
In 2011 it signed a codeshare agreement with TACA Airlines for domestic flights in Chile, Peru, and between both countries. In 2012 it signed a codeshare agreement with TACA's parent company, Colombia's Avianca, for operations between Chile and Colombia.
The airline planned to transition to a low-cost carrier model during 2015 and 2016 to reduce costs