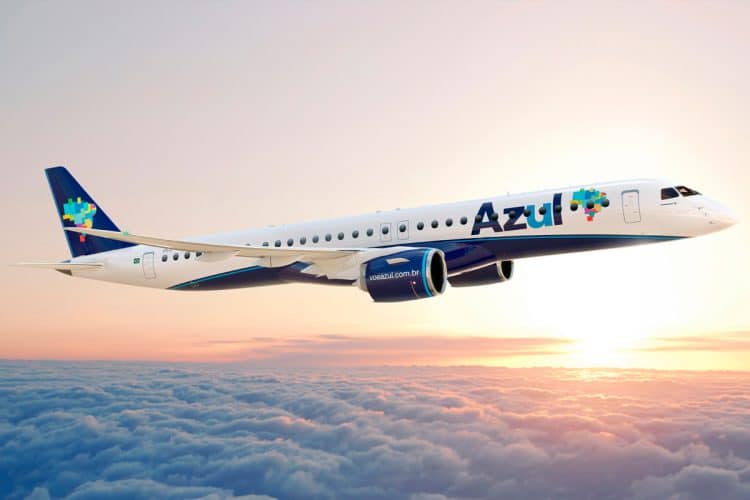 After air bridge, Azul Airlines tries to joint venture with TAP to grow abroad too. In the quarter, despite dollar-driven loss, revenue has hit record.
Azul posted losses eight times higher this quarter compared to last year. But the culprit was largely the high prices of dollar. The loss was 438 million reais in the period between July and September, but, excluding the exchange rate variation, the company had profit of 441.4 million reais, or 57% higher than last year. Year to date, the result is positive at 45 million reais.
Despite the loss, the numbers made analysts rate the airline's third quarter results "strong". Revenue was a record of 3 billion Reais, up 25% compared to last year. Ebitda (earnings before interest, taxes and amortization) rose 24% to 935.8 million Reais.
The company celebrated a 27% rise in demand, with a record load factor of 84.3%. Much of the increase came from the domestic market. "We are very confident with demand, which is very strong domestically. And we combine that with good discipline in providing capacity, "said President John Rodgerson at an analyst conference on Thursday, further stating that Azul will not go into" games "such as heavy discounts on the passenger fight.
Analysts praised the 1.5% reduction in costs excluding fuel (CASK), driven by replacing part of the fleet with more modern aircraft. Operating margin also rose from 17.6% to 18.5%. Azul has updated its estimate for the year and forecasts that CASK will end in a 0.5% drop (compared to a previous 2% rise forecast) and a margin of 18%.
More to come: In addition to the five new aircraft in the third quarter, Azul plans to receive another 12 in the fourth quarter, including the first Airbus A321neo, a more modern, fuel-efficient aircraft family.
Embraer E-Jets are also being replaced by the new E2. The new version is the largest commercial airplane ever made in Brazil and has up to 30 additional seats, which should bring a reduction of more than 20% in costs. The first E2 made its debut flight in October.
With the results, reports from banks such as Itaú, Safra and Bradesco all kept the label "above average" for the company's action. The company's stock is up 72% this year to a market value of 17 billion reais (on Thursday, shares rose just under 2%).
Life without Avianca
Azul is in an aggressive expansion plan, but was greatly helped in the domestic market by the departure of Avianca, which stopped operating in May. According to Anac data, in January and August, Azul had a 23% market share in the domestic sector in Brazil, behind Gol, with 38%, and Latam, with 33%. Between January and August, Gol had a 5.4% increase in its share, and Latam, 4.6%, while Azul increased its share by 25%.
The company ended the quarter with 114 destinations, 10 of them abroad, in countries such as Colombia, Argentina, Uruguay, United States and Portugal. There are 237 routes and 910 daily flights.
Azul also began flying on the Rio-São Paulo air bridge on August 29, completing the most significant move in the company's history and following a months battle over Avianca's landing and takeoff times. According to executives at the conference with analysts, Map and Passaredo do not represent significant competition, with companies flying routes where Azul is not, such as Congonhas-Ribeirão Preto (SP), in the case of Passaredo.