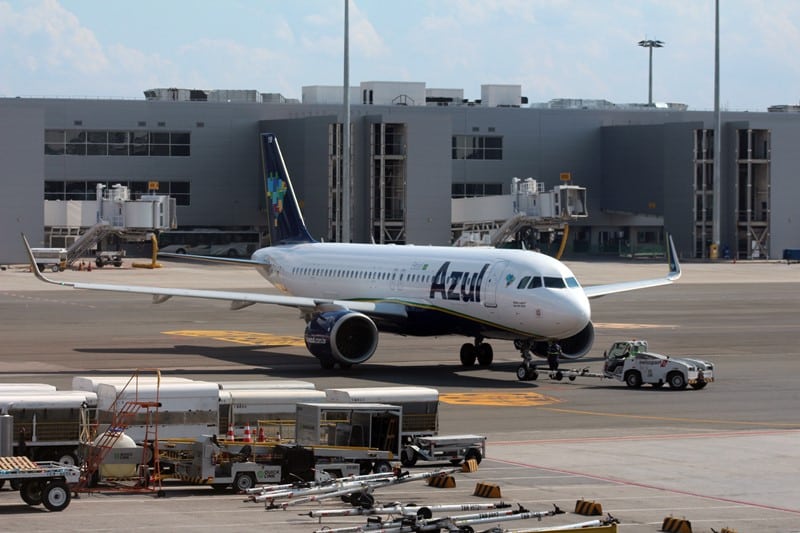 Azul is communicating to its shareholders and the market in general that it has taken additional measures in response to the lower demand for travel due to the impact of COVID-19.
"As the situation at COVID-19 continues to evolve, our priority remains the health and safety of our Crew and customers. Following the slowdown we are seeing in the Brazilian economy, we are taking immediate steps to reduce our costs and preserve our cash position. I would like to express my deep gratitude to our Crew for their extraordinary efforts to support Azul and the role we play in Brazilian aviation. We are the largest airline in Brazil in terms of takeoffs and cities served, which operates with Brazilian-made Embraer aircraft. We have entered this crisis as one of the most profitable airlines in the region, and I am confident that we will come out stronger, "said John Rodgerson, CEO of Azul.
The containment and quarantine measures that are being implemented across the country are significantly limiting the mobility of our customers, crew, and partners, making the operation of the various routes we serve impracticable. As a result, from March 25 to April 30, 2020, the company expects to operate 70 direct flights per day, to 25 cities, which represents a 90% reduction in total capacity concerning what was planned. The company claims to be working with the Brazilian government to ensure that the aviation infrastructure remains favorable for us to operate a small network reliably, allowing for the critical movement of people and products.
In addition to the fixed cost reduction initiatives announced on March 16, Azul is reducing payroll costs and expenses by approximately 65% ​​in April 2020, based on the following initiatives:
Increase in the number of Crew members who joined the company's unpaid leave program, totaling more than 7,500 applications approved to date, more than half of our total workforce
Salary reduction of 50% for members of the executive committee (directors and statutory directors) and 25% for managers
Balance sheet and cash flow
In addition to taking aggressive measures to reduce operating costs, the company is also working to strengthen its liquidity position by preserving cash, which includes:
Active management of all working capital expenses
Eliminating all non-critical capital expenditures
Negotiating new payment terms with your partners
Evaluation of a new credit line with financial institutions
The company is confident it will overcome the COVID-19's impact through its profitable business model, strong cash position and solid balance sheet.
Azul says it will keep the market informed of any relevant developments.