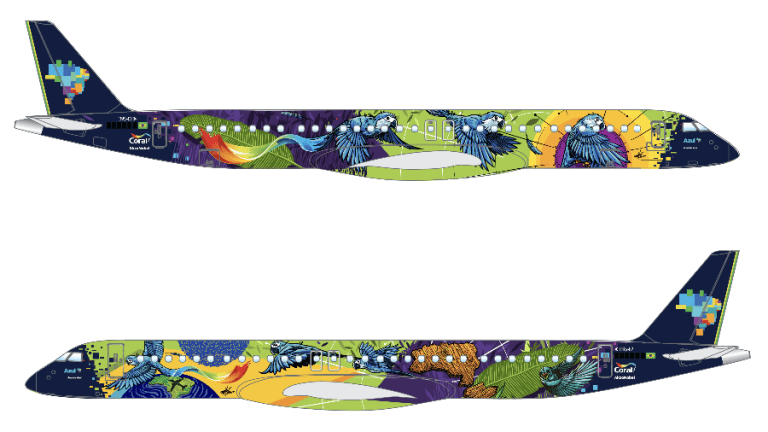 New images of the special painting pattern of the third Embraer E195-E2 from Azul were released today (02/18). The aircraft will be called ""Hyacinth Macaw" ("Ararinha Azul", in Portuguese, referring to the vibrant blue-feathered Brazilian parrot. This bird is currently threatened with extinction due to hunting, clandestine trade and degradation in its natural habitat due to deforestation.
The aircraft was photographed last week on Embraer's final assembly line in São José dos Campos, with several ladders at the front, with the new painting costing R $ 350,000. A standard paint scheme used by the airline costs half that amount.
The painting created by the São Paulo graffiti artist Pardal was applied in partnership with the paint brand Coral, and several birds are distributed in 58 colors by the fuselage of the aircraft E195-E2, with Blue Macaws painted and contrasting with the yellow and green background, in allusion to the Brazilian flag. On the back of the fuselage, there is the design of a sparrow, which is one of the marks of the artist who created the project.
This aircraft will replace the first generation E195 with the prefix PR-AYV.
The delivery of the aircraft with the new paint, possibly with the prefix PS-AEF, is scheduled for mid-2020, considering Embraer's production period to complete the final assembly and tests, before delivery. The painting alone took 10 days to complete.
Azul has already received five E195-E2 aircraft. This will be the third with special paint. By the end of 2020 there will be 29 aircraft of the new generation model in the company Azul.