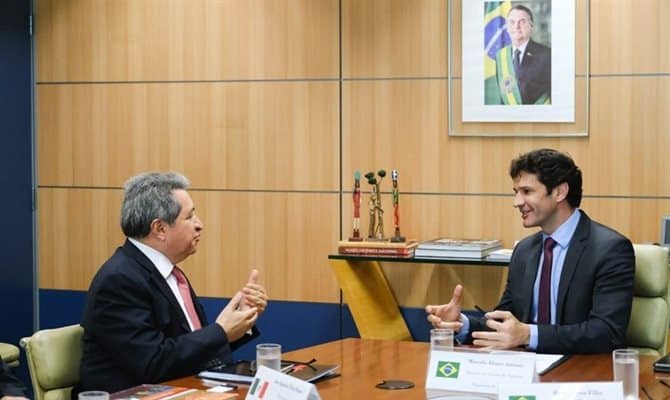 The Brazilian Minister of Tourism, Marcelo Álvaro Antônio, met with the ambassador of Mexico in Brazil, José Ignácio Piña Rojas, with the objective of elaborating a cooperation plan to increase the flow of tourists between Brazil and Mexico, increase the frequency of flights and strengthen integrated tourism. Also attending the meeting were minister Luís Ángel Dominguez Brito and councilor Marco Antonio Huerta Sánchez, both from the Mexican embassy in Brazil, in addition to the executive secretary of the Ministry of Tourism, Daniel Diniz Nepomuceno.
The Minister of Tourism highlighted the importance of increasing connectivity with Mexico, which he says is an extremely important destination for Brazilian tourists. "We have similarities in our tourist attractions, such as gastronomy, culture and natural beauty. We have to join forces to leverage tourism at the international level, generating jobs, income and social inclusion ".
One of the proposals addressed was the need to create weekly direct flights between Brasilia and Mexico and the revision of the air services agreement of the two countries, signed in 2011. During the meeting, the ambassador also presented the plan for the promotion of Mexico's brand tourism. for the next four years, in order to strengthen tourism in the country, increase the number of international visitors, diversify outbound markets and strengthen sustainable tourism practices.
Both Brazil and Mexico are great destinations for a vacation. Both countries are vast and diverse, and both merit being on everybody's list. But when you've got to face a decision between the two of them, why not go to Brazil? It is one of those landmasses that is way too big to try and describe in a single sentence, so it's worth checking it out for yourself!
You can see more about Brazil and its wonders on this blog, and book flights with better prices on our website!