JetSmart is now represented by Aviareps in Brazil. Self-defined as ultra-low cost, the Chilean airline delivered to the office headed by Marcelo Kaiser its commercial interests in the country, to which it flies twice a week from Santiago to Foz do Iguaçu (PR), to Salvador and, from 20 March, it will also operate in São Paulo two days a week.
Former Avianca and South African Airways, Joyce Peixoto takes over the account alongside former Gol Adriana Rosa. Sales executives have just returned from an immersion in Chile, where they liked what they saw. "The fact that it is ultra-low cost does not detract from the quality of the company. The North American investment group Indigo Partners, of which JetSmart is part, has been a specialist in low-cost operations for several years, recognized worldwide," says Joyce .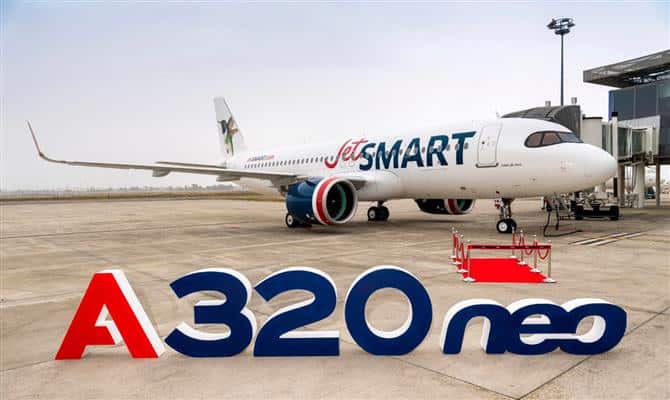 Today with 17 aircraft, the company plans to arrive in 2026 with 100 pieces of equipment. The flights that come to Brazil are made with the A320neo, "with a comfortable configuration for the passenger, delivering exactly what he needs, according to the fare", says Adriana. In addition to domestic flights in Chile, the airline also has operations in Peru, Colombia and Argentina. In the latter country, it acquired the operations of Norwegian Argentina. In total, more than five million passengers have already boarded "ultra-low cost" flights.
According to the executives, JetSmart's role is to make travelers rethink the way they travel, passing the right message to the consumer. "The company delivers the right price for the customer to travel from tip A to B, delivering exactly what he paid for. What the passenger wants, he can buy. We have ancillaries like luggage and meal at an affordable cost. The idea is to pay only for their experience, and not that of others ", explains Joyce. "Chileans are aware of this model, and now we will bring it to Brazil."
In this scenario, points out Adriana, the equipment is key. "Our oldest plane is a year and a half old. We work on that. Aircraft modernity is fundamental." According to the pair of new executives, since JetSmart entered the Chilean market, fares for the routes on which it operates have fallen by 50%. "Within what the company is willing to offer, the tariff must be at least 25% lower than that of the competitors", he concludes.
Outside the GDSs, the company operates on its own platform, and the work of Joyce Peixoto and Adriana Rosa, who will respond directly to Aviareps' new Aviation head, Diógenes Toloni, becomes crucial to fill flights from São Paulo to Chile. The flights from Santiago to Salvador and Foz do Iguaçu, due to the nature of the destinations, are much more convenient in the inbound. Still, Rodrigo Issa also works for JetSmart, in Salvador.