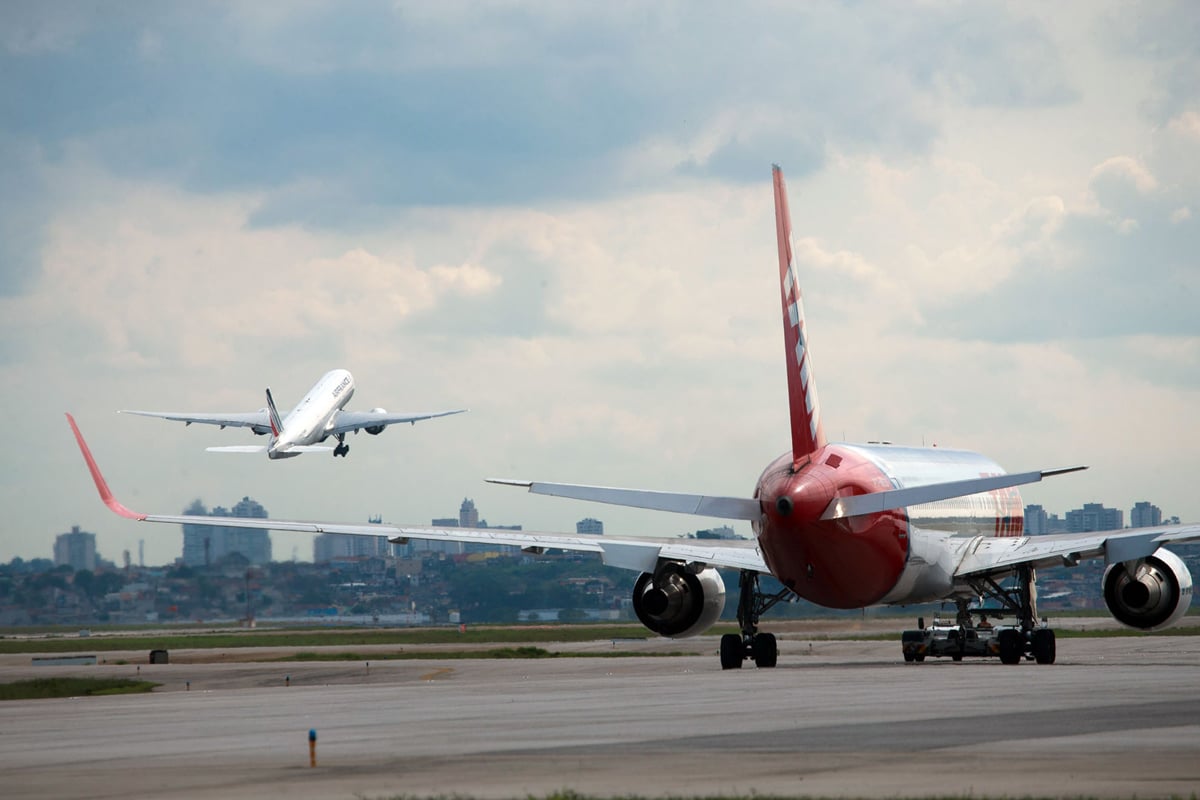 A common scene at large airports abroad can now also be seen in Brazil. Guarulhos International Airport  (SP) will adopt a new operating model as of March 30, in which the minimum separation between aircraft using the same runway will be reduced. This procedure is known as RRSM (Reduced Runway Separation Minima).
The initiative is part of the AGILE GRU Project, carried out in partnership between the GRU Airport concessionaire and the Airspace Control Department (DECEA). The work also includes the participation of Infraero, the Brazilian Association of Airlines (ABEAR), the Azul airline and the International Air Transport Association (IATA), with support from ANAC.
The RRSM operation can be applied between an aircraft that takes off and another that lands next, between two aircraft that take off on the same runway or between two aircraft that land on the same runway. In practice, it is a way to reduce the queues of aircraft during landing or take-off procedures at the terminal.
According to the DECEA coordinator at AGILE GRU, Major Air Traffic Control Specialist Marcos Roberto Peçanha dos Santos, the objective of the RRSM procedure is "to increase the efficiency of approach, landing and take-off operations and the consequent improvement in performance and airport operational flow ".
Benefits
The director of the Operations Subdepartment (SDOP) of DECEA, Brigadeiro do Ar Ary Rodrigues Bertolino, explains that the RRSM operation prioritizes the collaborative decision-making process, in which all those involved actively participate in all stages of the project. "The new procedure will provide improvements in the flow of arrivals and departures at the airport, contributing to the reduction in fuel consumption and emissions of pollutants, in addition to optimizing the work of controllers and pilots", points out the officer-general.
For LATAM Airlines commander Luciano Oliveira, the initiative, in addition to being in accordance with the best operating practices, promotes greater efficiency, punctuality and sustainability for air operations. "It is a procedure of low complexity for the pilot, which makes it possible for us to remain with the desired safety levels, in addition to having more operational flexibility, reducing the number of attacks", he evaluates.
The adoption of the RRSM procedure is also evaluated by the administration of Viracopos International Airport, in Campinas, today the largest air cargo terminal in Brazil.