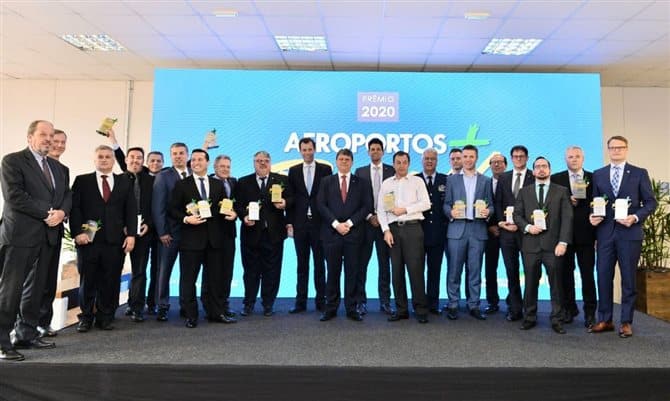 The airports of Brasília, Campinas, Curitiba and Vitória won the Aeroportos + Brasil Award for the best airports in the country. They were chosen based on the results of the Passenger Satisfaction Survey, compiled throughout 2019, and divided into three categories: up to 5 million passengers per year, from 5 to 15 million and above 15 million.
In this edition, there was a tie between Campinas and Curitiba in the category of 5 to 15 million passengers. Both reached an overall average satisfaction average of 4.74, on a scale ranging from 1 (very bad) to 5 (very good), and shared the prize.
Vitória airport, a big winner in the category of up to 5 million passengers, reached an average score of 4.64. Brasília, which had the first place in the category above 15 million passengers per year, reached 4.48 in the evaluation of users.
The award was presented  by the Minister of Infrastructure, Tarcísio Gomes de Freitas, in a ceremony held in the area of ​​the former Terminal 2 of Brasília airport. According to the minister, the improvement in services offered to people who use Brazilian airports is evident. "We see the success of the concessions program, which also affected Infraero, which improved its management and competes today on an equal footing with concession airports," he said.
The minister recalled that 2019 was a complicated year for Brazilian civil aviation with the breakdown of Avianca in Brazil and the crisis of the 737-Max. Despite this, according to him, the price of airline tickets has been falling. "We are starting to balance supply and demand, we have a resilient, strong market," he said.
Freitas evaluated that the concessions program has brought positive results. "We are in the right direction with the concessions, on the regulatory issue, facing the cost of aviation kerosene, making investments for the growth of regional aviation. We have a very well-oiled gear working for civil aviation, which has everything to grow. This service will be increasingly universalized ", he said.
In addition to the Aeroportos + Brasil Award, five other indicators were evaluated to award the winners. Florianópolis gained prominence as the "airport that most evolved" over the previous year, with growth of 13.6%. Among the airports that process up to 5 million passengers a year, Maceió won in three indicators: "more efficient x-ray", "more efficient customs control" and "more passenger services" (in tie with Florianópolis). The "most efficient migratory control" was left to Manaus.
Airlines
Azul Airlines won, for the second consecutive year, the two categories that assess the companies' performance: the most efficient check-in and the most efficient baggage claim.
The Passenger Satisfaction Survey, used as the basis for the award, heard 94,549 users in 2019. The set of 20 airports assessed reached an overall average satisfaction of 4.43 in 2019, compared to 4.35 in 2018.