Largest aircraft maintenance center in Latin America, Latam's MRO, in São Carlos, São Paulo, already has drones to inspect airplanes in its hangars. In tests since December last year, the process has been approved internationally and is now used for investigating the Airbus family models. The novelty, according to the management of the complex, increases the efficiency of the verification by 70% and decreases the time from 16 to three hours.
The company showed how the operation works in a visit made at the MRO. "It is another project that reinforces the pioneering characteristic of Latam in Latin America. This method gives us a significant gain in efficiency and improves our quality standards", says the director of maintenance at Latam Brasil, Alexandre Peronti.
The executive, who accompanied the visit to the complex, explains the equipment has autonomous flight and delivers a detailed view with more than 1,500 images captured and automatically archived in a database, which build a history on the status of each aircraft. To detect any damage on the plane, the equipment uses a laser reading that is checked by technicians. The analysis compares a 3D project previously filed with the evaluated vehicle.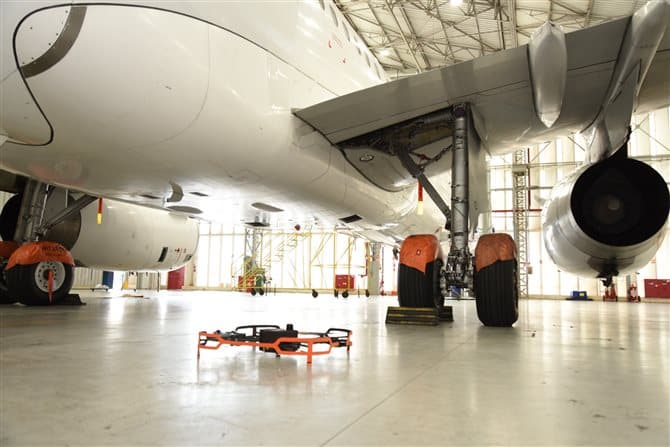 To put the method into operation, Latam participated in its development and submitted it to the analysis of specialists in the subject and European aviation authorities. With the approval obtained, the type of inspection replaces the inspection process that was done visually by technicians. The company's idea is to apply the same method in another company maintenance center in Chile. "Our goal was to have a way of analysis equal to or better than what we were doing", reiterates Peronti.
The drones arrived at Latam through a leasing contract. However, according to the director, an apparatus with this potential would cost values ​​between up to US $ 500 thousand.
Retrofit Sequence
More than the work done with the drones, the visit to the MRO also showed how the retrofit of the Latam fleet has been going, which has been going on since last year. Since the beginning of 2019, the complex has revitalized and repainted 54 aisle planes and the idea is to deliver another 60 by the end of the year.
The internal remodeling and repainting of these aircraft takes 21 days to be carried out, according to Peronti. "We are talking about a complete reassembly, a structural modification in these planes that requires specialized labor, that's why we do it here", he justifies.