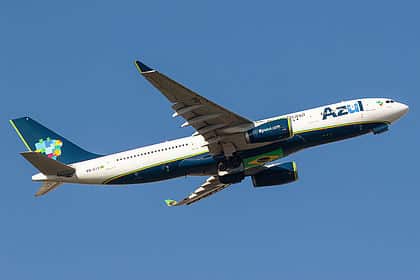 Reuters is reporting that Brazilian airline Azul declares material fact on Tuesday that its controlling shareholder and founder, the American Aviation entrepreneur David Neeleman, reduced his stake in the company significantly to cover a margin call tied to personal loan he took out in 2019 for $30 million Dollars.
Neeleman, who also founded JetBlue Airways Corp, and is starting a new US Airline, owned 11 million preferred shares in Azul Brazilian Airlines but is now down to 2 million shares. He only sold preferred shares, with no voting rights, and despite the sale still remains the carrier's controlling shareholder, declared Azul in a securities filing.
Azul informed that Neeleman was obligated  to sell the shares because of other investments needs, that include troubled Portuguese carrier TAP and a new US Airline venture called Breeze Aviation, are not liquid enough at the moment, because of the worldwide crisis that has crushed the airline industry. "There was no time to access other sources of capital," declared Azul.
Often used by banks,  a margin call is a demand for more collateral for loans taken by borrowers against stocks. If the value of the stocks given as collateral for the borrowed money falls below a preset level, the bank may demand more collateral to reduce its risks.
Azul's preferred shares are down more than 70% this year due to the worldwide coronavirus crisis, which has heavily affected airlines, and Brazil's carriers have been particularly hit hard.