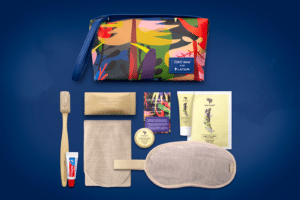 Latam recently unveiled sustainable travel kits with focus on local designs for passengers travelling on Premium Business cabins.
The amenity kits feature designs by emerging Latin American artists and it shows the airline's commitment to eliminate single-use plastic.
Unlike the previous kits, the bags are not wrapped in plastic and it contains a bamboo toothbrush with a sugar cane cap, earplugs wrapped in kraft paper, and both socks and eye masks are made from recycled plastic. Cosmetics products are environmentally friendly. These products are cruelty-free and vegan, use natural ingredients and raw materials, besides being locall produced by Brazilian artisans.
Latam has celebrated its cultural roots with two new amenity kits with designs by Hamilton Aguiar, a brazilian artist from Belo Horizonte Tomas Olivo, an artist from Santiago, Chile. Following designs will be by artists from Ecuador, Peru, Colombia and Argentina.
Latam announced on a statement : "with this initiative, LATAM intends to take another step forward in its sustainability strategy, focused on generating environmental and social value in the coomunity, and promoting social, environmental and economica development in the countries where it operates. "