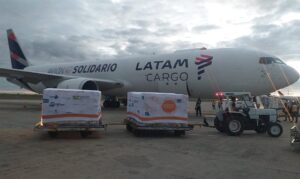 Latam Solidarity Programm will continue to transport Covid-19 vaccines at no cost.
Latam Airlines Group plans to continue its Solidarity Programm through 2022, transporting Covid-19 vaccines at no cost to support Latin America vaccination programs.
The group first  announced in December 2021 that will transport medical supplies including masks, rapid Covid-19 tests and medicine from different parts of the world to all of South America.
According to Andres Biachi, chief executive LATAM Cargo, "With the significant increase in Covid-19 infections around the world, collaboration and joint work with health authorities is more important than ever."
"For this reason, we are reaffirming our commitment to the free transport of vaccines in the domestic markets of Brazil, Chile, Ecuador and Peru this year. Thanks to the effort and work of all our collaborators, we remain committed and available to support the well-being of the people of South America."
Part of that programm includes transporting pediatric doses of Covid-19 vaccines to all States in Brazil